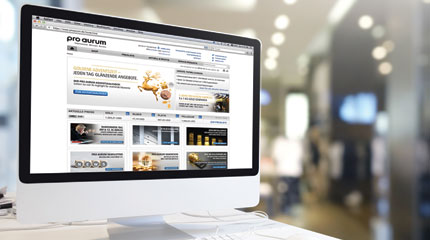 The German gold market has a long and rich history, with a tradition of purchasing gold as an investment and a recognition of its merits as an asset class. Banks dominated this market for years, but by the turn of the century, their interest was beginning to wane. Gold had fallen from a high of around US$850 an ounce in the 1980s to less than US$300 by 2001. Retail investors were focusing their attention on equities and demand for gold was minimal.
For Robert Hartmann and Mirko Schmidt, this represented a potential opportunity.
"We were working on a banking precious metals desk at the time and it was clear that many banks were thinking of pulling out of the market because there was so little interest from investors. We thought it could be a good time to set up on our own. After all, gold has been around for thousands of years, so we thought it was way too early to consign it to history," says Hartmann.
In 2003, Hartmann and Schmidt set up Pro Aurum as a trading hub for retail investors. The decision proved prescient.
"In the early days, we had an interesting situation. Banks were withdrawing from the gold market, they had lost a lot of know-how and they just wanted to sell their gold.
We had private and retail customers who wanted to buy and, because of our background, we had good relationships with the banks who were selling, so it was a perfect twoway market," says Hartmann.
New law, new momentum
In 2005 however, German law was changed, allowing gold to be bought and sold online. Pro Aurum seized the opportunity. A pioneer in the online gold market, the company experienced rapid growth as consumers responded to this new distribution channel.
"Buying gold from the banks was always quite a cumbersome process," Hartmann says. "There was lots of paperwork, the banks closed at 3.30pm and it could take two weeks for a trade to complete. Online trading is very different. It is fast, simple and you can do it when you want, not just when the banks are open."
Online trading is very different. It is fast, simple and you can do it when you want, not just when the banks are open.
Demand grew rapidly, particularly following the financial crisis, when market dynamics went through a period of fundamental change. Pro Aurum expanded, moving into Austria and Switzerland, taking on new staff and changing its procurement processes.
"There were times when demand was such that it was really hard to find enough gold to sell. We had to buy kilobars and Krugerrands from Hong Kong and fly them over to Germany," says Hartmann.
By 2010, Pro Aurum was selling more than 40 tonnes of gold annually to retail investors. Demand has tailed off slightly since then, but even last year, sales amounted to 38 tonnes.
Bond yields are negative, equities are at record highs and real estate is expensive, particularly in the major cities. As a result, people don't know what to do with their money and gold is a good insurance policy.