Published:
Gold should not be seen in isolation but as a strategic component in portfolios. It protects purchasing power and helps manage risk.
Sectors: Investment
Published:
This third edition of Gold Investor includes three papers: I. Gold and US interest rates: a reality check; II. What drives gold? Factors that influence the asset class and its role in a portfolio; III. The role of gold in defined-contribution plans: Mexico case study.
A good understanding of the factors influencing the performance of gold is a key challenge in grasping the core benefits of this asset class: a global inflation hedge, a risk-management vehicle and a source of capital preservation.
After an eventful quarter and some rooted misconceptions, the main question revolves around gold's future and its role in an investment portfolio. Gold Investor Volume 3 shows that the strategic case of gold is as relevant as ever.
Sectors: Investment
Published:
April 2013 witnessed a significant drop in gold prices, from US$ 1,535.5/oz on Friday 12 to intraday lows of US$ 1,320/oz on Tuesday 16th before stabilising around US$ 1,390/oz. 
Sectors: Market insights, Demand, Jewellery, Investment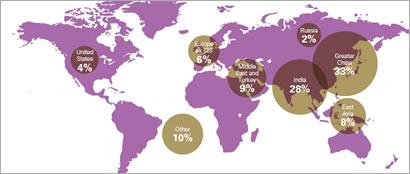 Published:
Q1 saw a strong resurgence in demand for gold jewellery, bars and coins; however, overall demand was down 13%. Outfows from ETFs accounted for the vast bulk of this decline; excluding these outfows overall demand grew year-on-year. India and China again served as the main engines of growth in jewellery…
Sectors: Investment, Jewellery, Technology
Published:
Marcus Grubb, Managing Director Investment, talks through the findings from the Q1 2013 Gold Demand Trends report.
Sectors: Investment

Published:
This second edition of Gold Investor includes four papers: I. Investment commentary: first quarter 2013; II. Gold and currencies: protecting purchasing power; III. Gold in the "Great Rotation"; IV. Gold holdings: ample room for growth in a broad and liquid market.
Our analysis shows that despite the recent pullback in the gold price, gold has never been more relevant as an investment asset and currency. Whether acting as an inflation hedge, a tail-risk hedge or a tool to hedge against debasement, gold's qualities seem tailor made for these turbulent times.
Sectors: Investment