Published:
As the US economy starts to show signs of rebalancing, paving the way for monetary policy normalisation, this paper explores the misconceptions surrounding the relationship gold has with interest rates.
Sectors: Investment
Published:
This third edition of Gold Investor includes three papers: I. Gold and US interest rates: a reality check; II. What drives gold? Factors that influence the asset class and its role in a portfolio; III. The role of gold in defined-contribution plans: Mexico case study.
A good understanding of the factors influencing the performance of gold is a key challenge in grasping the core benefits of this asset class: a global inflation hedge, a risk-management vehicle and a source of capital preservation.
After an eventful quarter and some rooted misconceptions, the main question revolves around gold's future and its role in an investment portfolio. Gold Investor Volume 3 shows that the strategic case of gold is as relevant as ever.
Sectors: Investment
Published:
As more pension funds around the world opt for defined-contribution structures and move away from defined-benefit plans, contributors will not receive the same guaranteed payouts seen in the past. A comfortable retirement will be based on the combination of careful planning and a thoughtful investment strategy.
Sectors: Investment
Published:
To most investors, a key challenge is finding an appropriate framework of reference: what gold does, what it does not do, how and why it responds to various economic environments.
Sectors: Investment
Published:
The conversation among private wealth advisors is no longer about if they should invest in gold but rather, how much to invest. Bob Alderman, Managing Director for the World Gold Council, explains from Opal Financial Group's 2013 Family Office & Private Wealth Management Forum.
Sectors: Investment
Published:
All companies using this guidance are encouraged to disclose both their all-in sustaining costs and all-in costs and reconcile these metrics to their GAAP reporting. It is not expected that companies will disclose all individual cost items.
Sectors: Gold production, Supply, Investment
Published:
April 2013 witnessed a significant drop in gold prices, from US$ 1,535.5/oz on Friday 12 to intraday lows of US$ 1,320/oz on Tuesday 16th before stabilising around US$ 1,390/oz. 
Sectors: Market insights, Demand, Jewellery, Investment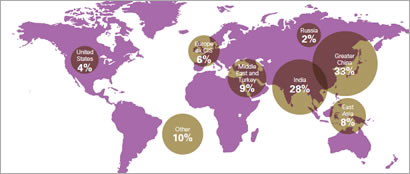 Published:
Marcus Grubb, Managing Director Investment, talks through the findings from the Q1 2013 Gold Demand Trends report.
Sectors: Investment