The trading, clearing and vaulting of gold is determined around a number of clearly-defined standards, and the gold market operates through a well-established infrastructure of market makers and clearing.
Accounting
►
Guidance for Monetary Authorities on the recommended practice in accounting for gold
Monetary authorities hold gold in the performance of their official functions, typically as part of the country's official reserves. This functional purpose differs from the objectives of other entities who hold gold. Monetary authorities also commonly hold gold in much larger quantities than other entities. General purpose financial reporting frameworks lack appropriate guidance on accounting for gold, in particular for the gold classified as monetary gold, held by monetary authorities.
To match accounting for gold to its functional objectives, monetary authorities require an accounting framework that recognises the several reasons that the entity may hold gold and reflects the economic substance of these holdings.
In the absence of a suitable framework, monetary authorities have adopted a variety of different treatments. In June 2016, the World Gold Council published a discussion paper Working towards a common accounting framework for gold , which reviewed the different approaches to gold accounting demonstrated by monetary authorities, and the findings ultimately served as the foundation for the guidance recommended in this consultation paper.
This guidance, in the form of recommended practice, aims to help standardise accounting practices of monetary authorities with respect to gold, by establishing a suitable framework that is consistent with the conceptual framework of current financial reporting standards. The framework needs to consider both the presentation in the statement of financial position and in the income statement (or comprehensive income statement where presented), and the treatment of unrealised revaluations. For those monetary authorities where issues of distribution to the central government arise, guidance is included as to what should be regarded as distributable, though this will be subordinate to local laws.
Finally, it is important to note that the current variety of treatments limits the comparability of financial statements and risks a reduction in their credibility, a key element in monetary authorities' independence and accountability. There has, accordingly, been interest for some form of standardisation in this area.

Invitation to take part in an open industry consultation
The World Gold Council is now seeking views on the draft guidance provided herein with respect to a recommended practice in accounting for gold. The views of monetary authorities, as well as those of international accounting standards boards, advisory institutions, global auditors, and other interested parties are requested by Monday 31 July 2017.
Please address all comments and enquiries to:
World Gold Council
Central Banks and Public Policy Programme
685 Third Avenue, 27th Floor
New York, NY 10017
United States of America
Email: [email protected]

Events
As part of our consultation process, we are participating in a series of events.
Please see below for more details.
Expert Panel: Accounting from a central bank's perspective
6-8 June 2017, in Frankfurt, Germany
Co-hosted with the Deutsche Bundesbank
International Conference on Central Bank Accounting Practices
28-29 September, in San José, Costa Rica
Co-hosted with the Center for Latin American Monetary Studies (CEMLA) and the Central Bank of Costa Rica
Market infrastructure
►
A central bank that wishes to buy gold can do so locally, by purchasing domestically-mined or recycled gold. Alternatively, gold bars can be bought directly from a bullion bank in the global over-the-counter, or OTC, market.
The majority of OTC gold is settled via gold bars stored in London, or 'loco London'. Twice daily during London trading hours there is an 'auction', which provides reference gold prices for the day's trading.
Either the morning (AM) or afternoon (PM) LBMA gold price auctions form the pricing basis for many long-term contracts. Market participants will usually refer to one or other of these prices when seeking a basis for valuation.
This short film explains the settlement process for a bank buying gold in the London OTC market.
Buying gold in the London OTC Market
Market makers
The gold market has a series of committed 'market makers'. In London, the market makers are represented by the London Bullion Market Association (LBMA) and commit to offering minimum volumes in spot gold and, in cases, forwards and options.
A list of market-making bullion banks can be found on the LBMA's website. Market makers typically deal in a minimum size of 1,000 ounces. A market maker's standard quote will be for 'loco-London' gold, which can be delivered to a nominated vault in London, but some bullion banks will also arrange for the gold to be shipped to another location for an additional fee.
Clearing and settlement
Some members of the LBMA are also members of London Precious Metals Clearing (LPMCL). The LPMCL members serve two functions: they settle gold transactions between buying banks and selling banks and they facilitate the physical flow of gold between market participants. There are currently five members: HSBC, ICBC Standard Bank, JPMorgan, Scotiabank and UBS.
If a central bank wants to buy gold in the London OTC market the first thing it must do is to have access to an account with one of the LPMCL members. Each LPMCL member has access to London vaulting facilities, including at the Bank of England, for the storage of gold. This enables the LPMCL member to receive loco-London gold on behalf of the buying bullion bank.
Most gold trades are conducted in dollars, but gold can also be bought in other major currencies. For a dollar transaction, the currency leg of the trade will frequently be settled two days after the trade was agreed (T+2), at close of business New York time with a New York-based bank.
Bars and vaults
►
'Good Delivery Bars'
The standard unit of account for central banks buying gold in the OTC market is the 'Good Delivery Bar', although central banks often hold other types of gold bars and coins that were dominant in the past, or that they have inherited.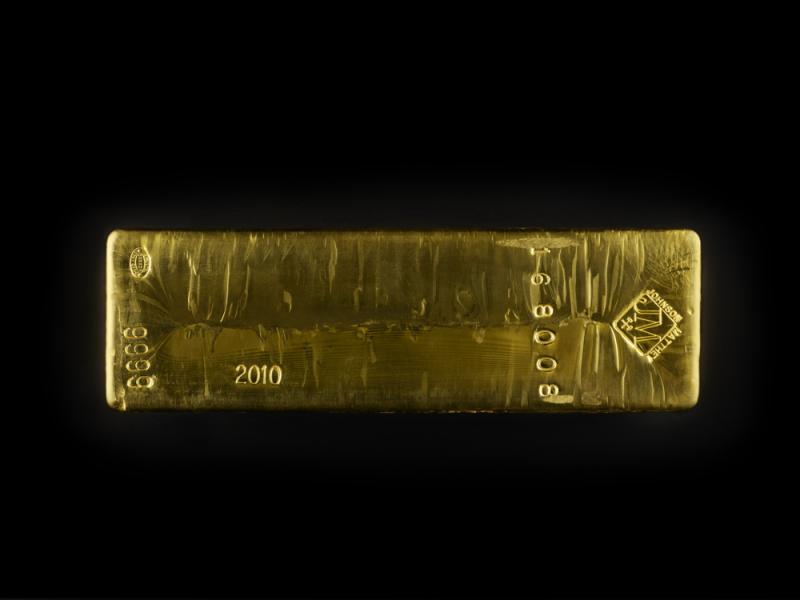 Sometimes central banks will seek to refine other bars up to Good Delivery Bar standard to ensure the maximum liquidity. This can be carried out through a refinery that is on the London Bullion Market Association's (LBMA) 'Good Delivery List'.
Amongst other criteria, the bars must be ingot-shaped, be of good appearance, weigh between 350-430 fine troy ounces and have a minimum fineness of 995 parts per thousand.
A full list of the criteria that Good Delivery Bars must meet and the 'Good Delivery List' can be found on the LBMA's website.
Vaulting: allocated versus unallocated gold
A central bank can either hold gold in its own vault, with another central bank or even at a commercial bank. Many central banks choose to vault some of their gold with the Bank of England or the Federal Reserve Bank of New York in the United States. If a central bank chooses to hold gold outside of its own vault it must decide whether to hold it on an 'allocated' or 'unallocated' basis.
In an allocated account, the gold is physically segregated from all other gold stored in the vault, the client has full title to the metal in the account and the client's holdings are identified by bar number, size, fineness and weight.
In an unallocated account, the client has a general entitlement to a portion of a pool of gold, which allows the bullion bank to lease the gold for a small yield.