Responding to the imperative of ESG responsibilities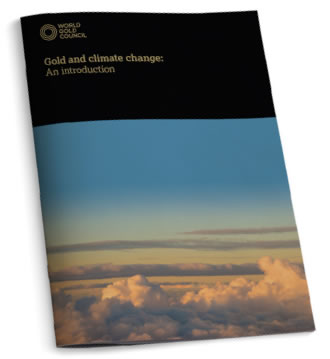 Given the increasing importance placed on demonstrating environmental, social and governance (ESG) credentials across all industries, we established a taskforce together with members and led by our Vice Chair, Gary Goldberg, to demonstrate and enhance gold's ESG credentials. Our first report on Gold and climate change, was released one year after the recommendations from the Taskforce on Climate-Related Financial Disclosure (TCFD). It focused on building understanding of the gold industry's greenhouse gas emissions footprint, and demonstrating the efforts already underway to reduce emissions. It also highlighted the gold industry's role in improving energy efficiency and developing low carbon technologies.
We also published our draft Responsible Gold Mining Principles following an extensive public consultation. Once finalised, the principles will set out clear expectations for all stakeholders as to what constitutes responsible gold mining. The responsible gold mining industry already operates under a large number of standards and codes that define specific aspects of good practice. The principles will consolidate and frame the multitude of existing approaches under a single framework, which will provide confidence to refiners, trading markets, investors and consumers that gold has been mined responsibly. Conformance with the principles will also demonstrate the continuing commitment of the responsible gold mining industry to operate to high ESG standards. Looking ahead, this will be an ongoing area of work that seeks to position our members as highly responsible corporate citizens.
Ensuring best practice in our standards
In 2013, we developed a Guidance note on non-GAAP metrics – all-in sustaining costs and all-in costs to provide further transparency and greater consistency in the way that mining organisations report their costs. Since then the metrics have been widely adopted by gold mining companies as part of their overall reporting disclosure. This year, we released an updated version of the Guidance Note, which included incremental enhancements in light of new accounting standards to support further consistency of application.
Increasing central bank appetite for gold
Demand for gold as a reserve asset strengthened considerably in 2018, rising by 74% compared to 2017, in response to the geopolitical and macro-economic environment. It also broadened. Our flagship training programme for reserve managers, held in conjunction with the National University of Singapore, received a record number of applications from central banks globally keen to learn how gold can help them meet their safety, liquidity and other objectives. Our mid-year central bank survey reported that one fifth of central banks surveyed intended to increase their gold holdings over the next 12 months, with none planning a decrease.
The Common Accounting Framework for Central Banks, which was launched early in 2018, was awarded Central Banking's inaugural Professional Services Initiative Award.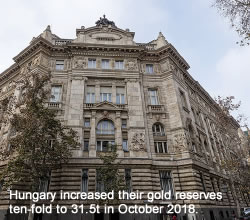 This was borne out by events, with over 20 central banks purchasing gold in 2018. This included many new buyers or central banks that had been dormant in the gold market for several years. Even some European central banks bought gold, with the national banks of Poland and Hungary both making sizeable purchases. The central banks of Russia, Kazakhstan and Turkey also remained prolific buyers. The desire to de-dollarise foreign exchange reserves, in response to deteriorating geo-political relations in some parts of the world, fuelled some purchases. While other central banks bought gold for diversification reasons and, in Hungary's case, partly as a hedge against structural changes in the international financial system. We expect all three influences to strengthen this year.