Today is World Malaria Day and, unfortunately, some of the key messages of the day are less positive than we have seen in recent years. After a decade of steady progress in the fight against the disease, no significant gains were made in reducing malaria cases in the period 2015 to 2017. The estimated number of malaria deaths in 2017, at 435,000, remained virtually unchanged over the previous year1.
However, this apparent stall in progress has bought major organisations such as the RBM Partnership and the World Health Organization (WHO) together to back the acceleration of a new campaign: "Zero Malaria Starts with Me"2. This programme aims to keep malaria high on the political agenda, mobilise additional resources, and empower communities to take ownership of malaria prevention and care.
In 2014, the World Gold Council collaborated with five member companies to highlight the, generally untold, story of the industry's efforts to combat malaria. Our case study focused on Ghana, where malaria transmission occurs in all areas of the country. All five World Gold Council members operating in the country manage significant malaria programmes, with one, AngloGold Ashanti, eventually rolling out their enormously successful "Obuasi Model" to over 40% of the country in collaboration with the Global Fund. This programme remains active in 2019, and continues to have a considerable positive impact on malaria in Ghana3.
Last week I wrote a Goldhub blog about the important role gold plays in the fight against infectious diseases, particularly within the medical diagnostics sector. Malaria lateral flow assays (LFAs) are utilised on a huge scale, and almost all contain gold nanoparticles. According to the WHO, 276 million of these LFAs were manufactured in 2017, making them one of the key diagnostic tools used in the fight against malaria. Recent years has seen them become increasingly accurate and reliable, and clinical trials are ongoing with the 'next generation' of gold-containing LFAs which may see them become an even more important and useful weapon against a deadly disease.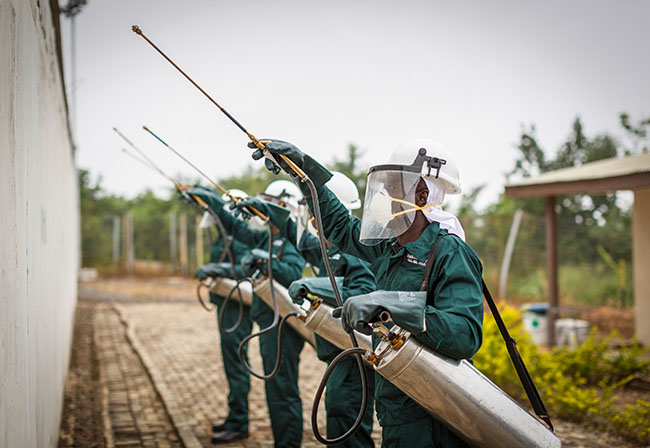 [1] https://www.who.int/malaria/publications/world-malaria-report-2018/report/en/
[2] https://zeromalaria.africa/all-tools
[3] https://www.theguardian.com/global-development/2018/jun/04/ghana-unlikely-marriage-mining-malaria-control-envious-glances-obuasi