Gold was sharply lower last week (LBMA -1.8%, XAU -1.5%) on the back of higher yields, a stronger US dollar and a risk-on environment. We expect US yields to influence gold's short-to-medium term performance as broad markets continuously adjust expectations about what the Fed may do over the coming months (see: The impact of monetary policy on gold, March 2019).
The gold price remains below the key technical level of $1,290, which represented the neckline of the bearish head-and-shoulders pattern. Absent a near-term rally, we would anticipate a fall to $1,225 based on that technical indicator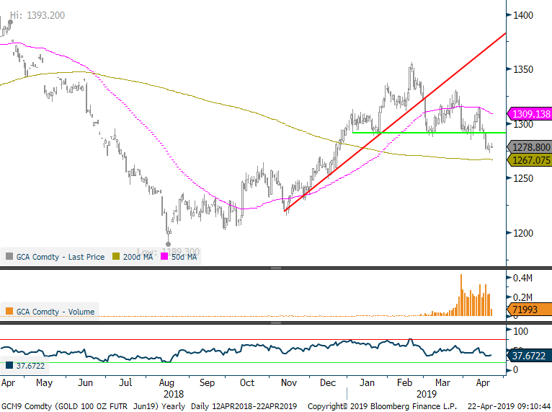 COMEX net longs decreased sharply last week from 365t to 173t, the lowest levels since 12/3/2018 as gold has fallen 2% in the past two weeks.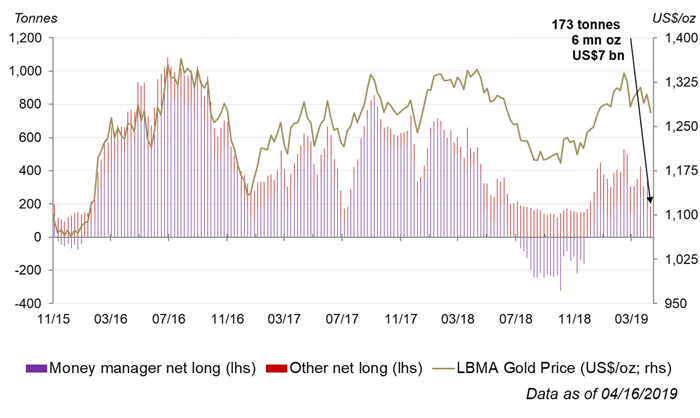 Globally, gold-backed ETFs experienced outflows last week of US$769mn. European flows were negative US$335mn. Month-to-date, flows are negative (-US$1.2bn) worldwide. North American gold-backed ETF flows are now negative on the year. Global flows are still positive on the year with the European region the only one with positive flows
As US markets near all-time highs, many experts argue the market is 'tired' with US/China trade relations, a dovish Fed, and weaker expected earnings baked into stock prices. We will get further clarity on the economy this week as many tech companies report along with a GDP report on Friday that will highlight the effects of the government shutdown in Q1 on the economy