Gold mining describes the process of extracting ore – metal-rich rock – from the earth's crust. And, as with other minerals, there are a number of geological processes that are involved in forming these ore deposits. Modern gold mining predominantly takes place in areas where there is a significant concentration of gold-bearing ore (ore body). Today, 60%-70% of the world's gold production comes from surface mines, while the remainder is from underground mines.
The amount of gold contained in an ore body is described as its "grade" and is commonly quoted in grammes per tonne. (Grades can vary enormously between deposits, and even within the same ore body.) For a deposit with a grade of 3 grammes/tonne, over 10 tonnes of ore would need to be extracted in order to produce a single ounce of pure gold (31.1 grammes). This demonstrates the huge scale mining operates at in order to extract gold.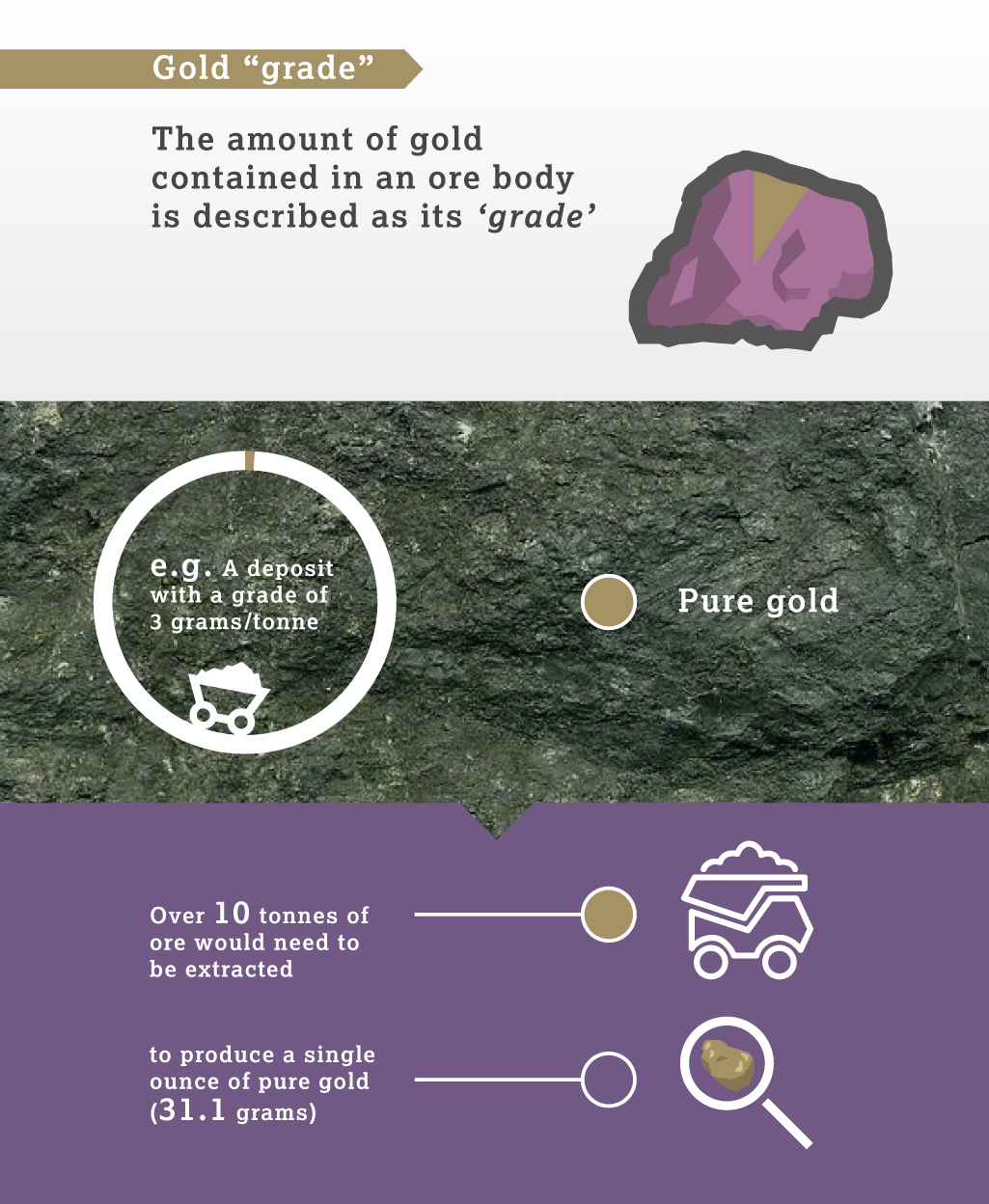 Gold mining operations vary greatly in scale and technological sophistication. They can range from multinational companies engaged in formal, large-scale mining (LSM) to artisanal and small scale mines (ASM) extracting small quantities of gold.
Large-scale gold mining is extremely capital-intensive, employing high levels of mechanisation and expertise to mine vast areas both above- and below-ground. (Today, around 60% of the world's mining operations are surface mines while the remainder are underground mines.) It is also complex, as all responsible miners need to address a wide range of requirements as part of their day-to-day business operations including: operation of the mine, health and safety, social engagement of local communities, as well as managing environmental and economic impacts and contribution. Leading LSM operators have been at the forefront of industry developments to ensure sustainable, transparent and accountable practices. To read more on this, please visit our Responsible mining section.
Large-scale mining is a costly enterprise. Costs can vary widely according to a range of geological, metallurgical, infrastructural and operation factors. And costs can also be affected by the wider socio-political and regulatory environment in host countries.
Modern gold miners – including our Members, are some of the world's largest and most forward-thinking gold mining companies – invest heavily in new technologies, responsible processes and business practices in order to improve efficiency and reduce impact.