The relevance of gold as a strategic asset
Published 23rd January 2018
Categories: Investment
Related documents 1 Download (pdf, 288.55 KB)
1 Available in

.
Gold is a highly liquid yet scarce asset, and it is no one's liability. It is bought as a luxury good as much as an investment. As such, gold can play four fundamental roles in a portfolio:
A source of long-term returns
A diversifier that can mitigate losses in times of market stress
A liquid asset with no credit risk that has outperformed fiat currencies
A means to enhance overall portfolio performance.
Our analysis shows that adding 2%, 5% or 10% in gold over the past decade to the average pension fund portfolio would have both increased returns and reduced volatility, resulting in higher risk-adjusted returns.
Why gold, why now
Gold is becoming more mainstream. Since 2001, investment demand for gold worldwide has grown 18% per year, on average. This has been driven in part by the advent of new ways to access the market, such as physical gold-backed exchange-traded funds (ETFs), but also by the expansion of the middle class in Asia, and a renewed focus on effective risk management following the 2008-2009 financial crisis in the US and Europe.
Today, gold is more relevant than ever for institutional investors. While central banks in developed markets are starting to normalise monetary policies – leading to higher interest rates – we believe the effect of quantitative easing and the prolonged period of low interest rates can have a long-term effect.
These policies may have fundamentally altered what it means to manage portfolio risk and could extend the time needed to meet investment objectives.
In response, institutional investors have embraced alternatives to traditional assets such as stocks and bonds. The share of non-traditional assets among US pension funds has increased from 17% in 2006 to 27% in 2016.
Many investors are drawn to gold's role as a diversifier – due to its low correlation to most mainstream assets – and as a hedge against systemic risk and strong stock market pullbacks. Some use it as a store of wealth and as an inflation and currency hedge.
As a strategic asset, gold has historically improved the risk-adjusted returns of portfolios, providing returns while reducing losses and providing liquidity to meet liabilities in times of market stress.
A source of returns
Gold is not only useful in periods of higher uncertainty. Its price has increased by an average of 10% per year since 1971, when gold began to be freely traded following the collapse of Bretton Woods.
And gold's long-term returns have been comparable to stocks and higher than bonds or commodities.
There is a good reason behind gold's price performance: it trades in a large and liquid market, yet it is scarce.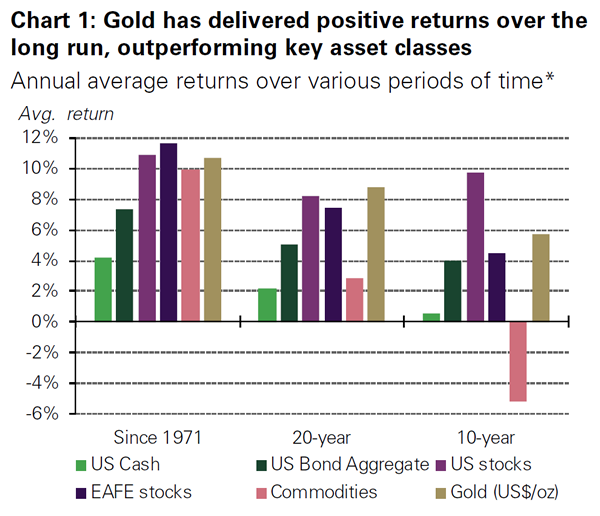 *As of 31 December 2017. Annual return computations are based on total return indices except gold where the spot price is used. This arrangement more accurately reflects portfolio level performance.
Source: Bloomberg, ICE Benchmark Administration, World Gold Council
Large yet scarce
The gold market has two attractive features for investors: scarcity supports its long-term appeal. But the size of the market is large enough to make it relevant for a wide variety of institutional investors – including central banks.
We estimate that there are approximately 190,000t of gold above ground worth more than US$7.6 trillion. Mine production adds approximately 2,900t per year, equivalent to an annual 1.6% increment.
Related documents