The World Gold Council is the market development organisation for the gold industry. Our purpose is to stimulate and sustain demand for gold, provide industry leadership and be the global authority on the gold market.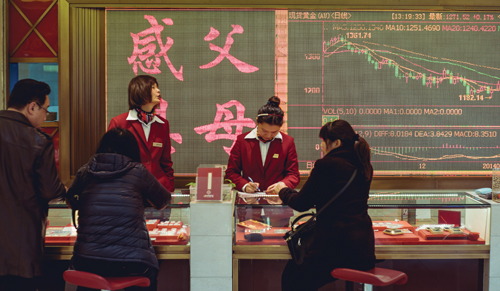 Over the years, we have consistently proven our ability to achieve against our mandate by intervening in markets to make gold more accessible, devising solutions to broaden understanding and the use of gold as an asset, and making the gold industry's voice heard in ways that no other organisation can.
Against a backdrop of pervasive political and economic uncertainty, coupled with rapid demographic and technological change, our strategy over the next three years is to make gold increasingly mainstream.

Setting industry standards
We will develop globally recognised standards that create clarity and consistency where it is now lacking and reinforce trust across the gold supply chain, bolstering gold's acceptance as a mainstream asset and broadening its investor appeal.
Our efforts will build on our experience of the industry guidance and standards that we have developed in recent times, including the Shari'ah Standard on Gold, the Conflict-Free Gold Standard and the Guidance on All-In Production Costs . We have also been a major contributor to the development of hallmarking standards in India.

Strengthening market infrastructure
Facilitating frictionless and transparent pricing, trading and settlement of gold and enabling easy market access with confidence and integrity are essential pre-requisites to establishing gold as a mainstream asset.
Building on our experience of helping to establish and advance the Shanghai Gold Exchange, we will work to shape the evolution of a global gold trading eco-system.

Enhancing global data and insight
To encourage greater understanding and acceptance of gold as a mainstream asset, we will work towards the establishment of a global repository of gold market data so that professionals can easily access trusted and timely information.
While much information is already available, it is not collected in a central location and is rarely available on a timely basis. Where facts are not available, we will seek to provide new data sources, drawn from across the industry, to minimise opacity and offer potential investors a richer set of resources and metrics.

Shaping the global dialogue
The size and significance of the global gold market is still not well understood and this remains a barrier to wider participation and investment. Although gold can provide solutions to societal needs for safety, security and stability, it remains peripheral to or neglected by many policy-makers and investment leaders.
To address this, we will bring together thought leaders, policy-makers and major investors to discuss gold's role in delivering solutions to preserve wealth and mitigate risk.

Bringing new investors to gold
The global financial markets are valued at well in excess of US$150tn, but gold accounts for less than 1% of that total. Raising the amount of funds allocated to gold, even fractionally, would have a very substantial effect on demand. It would also represent a significant shift in mainstream investor thinking, encouraging wider consideration of gold as a value preservation and risk mitigation asset.
To achieve this, we will target key investor segments with long-dated investment horizons: pension funds, insurers, sovereign wealth funds and others to increase the share of gold in their portfolios.

To learn more download our latest Annual Review