Tackling long-term global investment challenges
25th April 2018 - 08:00
Location: New York, USA
Categories: Investment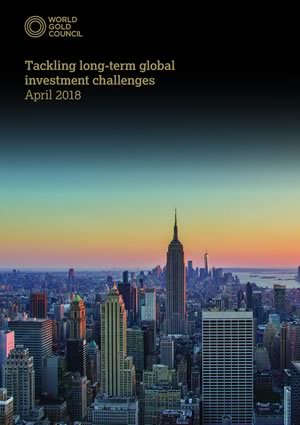 Our inaugural investment summit brought together leading industry experts, asset owners, academics, policy makers and official institutions to discuss the major long-term challenges facing investors today. These included: record levels of debt in Western economies; demographic changes, including mass migration and ageing populations; rising political risk and populism in the West; Environmental, Social and Governance (ESG) issues; the West to East shift in economic power and the digital revolution.
Discussions also considered whether gold can play a role in helping institutional investors address these challenges.
Attendance was by invitation only and all sessions were held under strict Chatham House rules.
Key information
Date: 25th April 2018

Time: Registration was from 9.00am, with the conference starting at 9:30am and lasting until 5.15pm. A cocktail reception and dinner with keynote address from Alan Greenspan followed.

Speakers included:
Dr Alan Greenspan, Former Chairman of the Board of Governors of the Federal Reserve System
Matthew Richardson, Professor of Applied Economics, NYU Stern School of Business
Richard Berner, Executive-in-Residence at NYU Stern's Center for Global Economy and Business
Professor Zhou Hao, Vice Chair, Tsinghua PBC School of Finance
Syed Haque, Director of Public Markets, United Parcel Service
Bernardo Bortolotti, Director of the Sovereign Investment Lab at Bocconi University and Professor in Economics at the University of Turin
David Marsh, Chairman of OMFIF
Jennifer Johnson Calari, President of JJC Advisory and former head of World Bank RAMP
Elliot Hentov, Head of Policy and Research, Official Institutions Group, SSGA
Suzanne Bishopric, Managing Partner, Global Sovereign Advisors, former Director United Nations Joint Staff Pension Fund
David Yermack, Professor of Finance, NYU Stern School of Business
Frank Holmes, Chief Executive and Chief Investment Officer at U.S. Global Investors
Jan G. Loeys, Senior Advisor, Long-Term Investment Strategy, J.P.Morgan
John Reade, Chief Market Strategist, World Gold Council
George Magnus, Economist, and Associate at Oxford University's China Centre
Topics included:
The current economic outlook and the long-term challenges facing investors today
Environmental, Social and Governance: Social responsibility and long-term investing
The implications of crypto-assets on long-term investing
Should you be interested in future events like this one, please contact us.