The World Gold Council reserve asset management staff offer a range of bespoke in-house training and intensive campus-based training programmes for public institutions' professionals.
The Executive Programme in Gold Reserve Management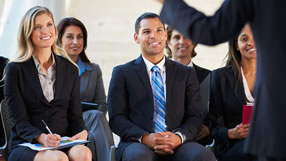 This one-week intensive programme is held in conjunction with leading global business schools around the world. The course covers a range of essential learning modules, including:
The programme also acts as a global forum for central bankers and ministry of finance officials around the world to exchange views and share best practices in gold reserve management.
Past programmes include:
Contributions from Professor Michael Kitson, Dame Kate Barker, experts from the World Gold Council, the London Bullion Market Association, leading gold industry insiders, mining companies and various central banks.
The Executive Programme in Gold Reserve Management, Haas School of Business, University of California, Berkeley
Contributions from UC Berkeley Professors Maurice Obstfeld and Professor Barry Eichengreen, leading gold industry experts, Newgold, the London Bullion Market Association, the International Monetary Fund and various central bankers.
Bespoke training
Bespoke research and training can be requested free of charge by emailing training@gold.org. Please note that this facility is only open to public servants in ministries of finance and central banks. Please provide the following details with your request: your organisation, title and area of responsibility, the specific areas of training required, your preferred date and location. All requests submitted will be treated in the strictest confidence.