News and Events
All the latest news from the World Gold Council, keeping you up to date with events, insights and analysis in the gold industry.
3rd February 2014 - 09:15 to 6th February 2014 - 17:00
At African Mining Indaba, the World Gold Council highlighted gold's positive contributions to economies and society, whilst also demonstrating the diversity of the drivers of gold demand and explaining how we engage with and shape the key markets and broader market landscape. The World Gold Council participated in a panel discussion on the main platform on Wednesday 5 February and hosted a seminar on Gold for Health.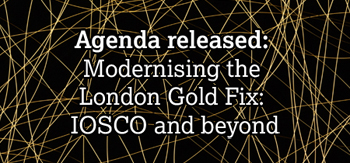 7th July 2014 - 08:30 to 13:00
7th November 2013 - 09:00 to 8th November 2013 - 17:00
The World Gold Council partnered with the United Nations Institute for Training and Research (UNITAR) to organise a two-day seminar examining gold's role in promoting socio-economic development and stability in sovereign reserve portfolios. The seminar was held at the United Nations Secretariat building in New York and was attended by representatives from permanent missions accredited to the United Nations, government officials from ministries of finance and mining, central bank officials, and academics.