News and Events
All the latest news from the World Gold Council, keeping you up to date with events, insights and analysis in the gold industry.
Latest news
Published 8th July 2014
The World Gold Council, the market development organisation for the gold industry, has appointed Emmy Kondo to fulfil a strategic business development role within the jewellery team. Emmy will be focusing her attention on the online community LoveGold, which is approaching half a million followers and on jewellery market development across the world. Based in Chicago, Emmy will report to Sally Morrison, Managing Director, Jewellery.
9th November 2014 - 09:00 to 11th November 2014 - 17:00
The World Gold Council is present annually at the LBMA (London Bullion Market Association) precious metals conference, the premier global event addressing important and topical issues affecting the precious metals industry.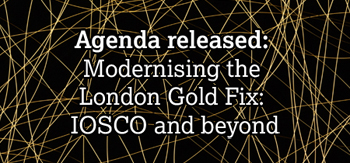 7th July 2014 - 08:30 to 13:00
28th April 2014 - 09:00 to 2nd May 2014 - 17:00
After a successful first year, UC Berkeley and the World Gold Council will again be offering the Executive Program in Reserve Asset Management in 2014. For more information, contact Gold@lists.haas.berkeley.edu Visit the UC Berkeley site to register.
3rd February 2014 - 09:15 to 6th February 2014 - 17:00
At African Mining Indaba, the World Gold Council highlighted gold's positive contributions to economies and society, whilst also demonstrating the diversity of the drivers of gold demand and explaining how we engage with and shape the key markets and broader market landscape.